When this conversation takes place, it is temporarily extra busy at Lugt Lisianthus. At the two locations in Honselersdijk and Monster, they have been harvesting a little more than usual for several days. In a week (March 8th) it will be International Women's Day, which is already bringing increased demand and good prices. "We have been working towards this peak, and we hope to cut over 20% more than usual," says Wesley van der Lugt, who is responsible for cultivation at the Monster site.
High energy efficiency
Despite the high energy prices, the company hasn't made any concessions in the cultivation regimen. "Of course, costs have gone up here, as well. Nevertheless, we have made the conscious decision to maintain the same 24-hour temperature. This way we keep the growth rate high and the quality where it should be. Many of our colleagues always lower the temperature a few degrees, but then you also have to accept a longer cultivation period and lower annual production."
According to the company, the high energy efficiency at the new location is due to applying the concept of Het Nieuwe Telen (Next Generation Growing), in combination with high-quality business equipment (well-insulated greenhouse, 2 CHPs of 1,600 and 2,700 MW, three screen installations, active ventilation using Technokas air treatment units, hybrid light installation) and smart screen and (modulating) lighting controls, which are controlled via Priva Connext.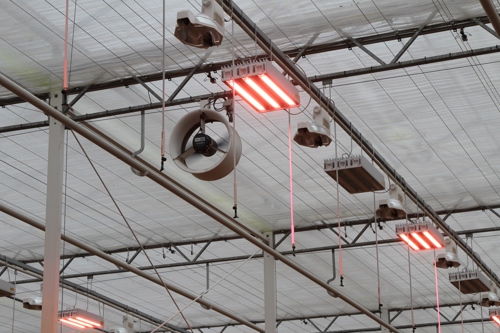 Many lighting controls, customized for the plants
The hybrid light installation of HPS and LED. The lamps are divided into four groups (1 HPS, 3 LEDs (dimmable)) that allow flexibility in switching the light level on and off. Van der Lugt: "We use modulating lighting control to make maximum use of daylight and to supplement the light level as needed to attain the daily desired PAR sum. We also want to offer custom light solutions for the plants, based on their growth stage and variety traits. As a result, we use as many as sixteen different controls. At the other site there are even more. They all have to be predefined in Connext."
A pleasant partnership with Priva 
Even before the new greenhouse was put into operation in 2020, it was clear that controlling climate and lighting was complex and required good preparation as well as careful monitoring. For Lugt Lisianthus, it was natural to turn to Priva and its partner Stolze Installatietechniek again. "Our family business has been working with Priva for decades," says Wesley. "Customizing our systems has been an ideal collaboration between the grower, installation partner and Priva. What has always appealed to us in partnering with Priva is that you get to talk to people there who really understand our needs. This is true of our regular consultant Wilbert Lammers as well as his colleague Kevin de Kok, with whom we completed the 'Energy-conscious cultivation' process. They are great sparring partners for us. They translate our cultivation needs for the technicians who customize the measure and control software. Moreover, they can explain to me, in a language I understand, why something is or isn't possible. Priva is doing well in that area, and that's not as easy as it may seem."
Priva Operator gives you an overview and piece of mind
Both sides have put in a lot of work optimizing all the controls and making them accessible in a clear overview. This was especially true in the first year of operations. "Every greenhouse is different, and it takes time to get to know the ins and outs. It makes sense that you would occasionally have to make some adjustments," notes the cultivation specialist. "We deliberately set aside time to fine-tune the installations and controls. This has resulted in a stable climate with optimal, energy-efficient controls. With the Priva Operator app on my phone, I can monitor everything, whenever and wherever I need to. If I wanted to, I could also make adjustments, but so far that has not really been necessary."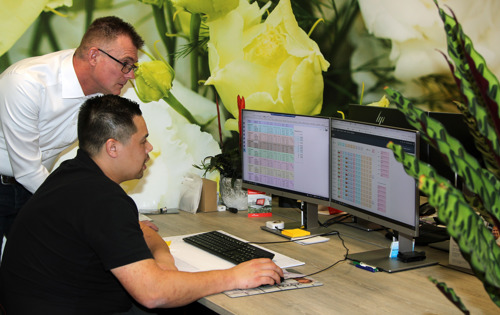 Soon going full LED
A full LED light installation is already being tested in a few compartments and Van der Lugt is pleased with the results. "In the summer, the entire site will be switching to full LED," he adds. "Then the energy consumption will go down a step further. The loss of HPS lights will therefore change the energy and moisture balance in the greenhouse. At that point we'll have to take another look at the controls, of course. That is where we can use the support of Wilbert and his colleagues."